Quality ground transportation services
Our limo & party bus rental Brooklyn
New York City Limo Bus is a premier transportation provider in Brooklyn and the NY area! Our long experience offering top-notch party bus and limousine rental, featured vehicles, and great customer attention has positioned us as the number one choice among our clients. Whatever the place you want to go or the occasion you want to celebrate, our excellent service gives you a memorable experience, so don't hesitate to choose us. On this website, you can get more information about our transportation service options and vehicles; take a look to make the best decision for your next event or trip in Brooklyn, NY.
Organizing the transport logistics and itinerary or searching among our many options of luxurious vehicles and event packages can be a problem, especially if you are aware of other preparations or don't have time. That's why we have a friendly and skilled customer attention team, including booking specialists, advisors, and planners, to advise, give suggestions, and support you during the rental process. Our team is available 24/7, so you can contact us anytime to request information or a free quote. Have the latest experience with our Brooklyn, NY, party bus rental!
Top Brooklyn party buses and limousines
When you plan a ride across Brooklyn and New York City, make sure you do it in style, thanks to our luxury limo & party bus fleet! On board, you not only can rest easy knowing that all our vehicles are properly maintained by experts mechanics who guarantee the reliability of our fleet, but also you'll have the best party bus experience and a great time since our Brooklyn limos and party buses are equipped with custom interiors and top-tier amenities and features. We assure you that you'll find the best limo or party bus in our large fleet, so check out our vehicle options. Get our top-notch Brooklyn, NY, party buses and limos for your next event at the best rates.
Get the perfect party atmosphere on board our party buses, limo buses, and stretch limos equipped with amenities such as color-changing laser lighting, dancing flooring with stripper poles, a booming stereo system with subwoofers, Bluetooth, flat-screen TVs, DVD players, bar areas with built-in coolers, plush leather seats, tinted windows, and more. Enjoy entertainment, dancing, and drinking your favorite beverages without discomfort by space. We offer various options, from large party buses with more room for larger groups to stretch limo options with a capacity for 10, 12, 18, or 20 passengers. Of course, if you are looking for large group transportation for gatherings, weddings, or other big-sized events, we recommend our shuttle buses. Our party bus rentals in Brooklyn, NY, are the best choice for any event, from a small family reunion to a party with many passengers.
Reliable chauffeured limo & party bus rental service
Let our drivers take over the wheel while you enjoy a big day riding around Brooklyn, NY, during bachelor parties, bachelorette parties, field trips, corporate retreats, or others, with your loved ones and friends! Don't take risks with the heavy traffic of New York City; whether you are thinking of taking public transportation or driving yourself, the best decision you can make to get to your event or celebrate on a party bus or limo is to trust our professional chauffeurs. Our driver team has many years of experience, so they know how to avoid inconveniences on the road, take the best routes, and make your rides more efficient to guarantee a safe and on-time arrival. Choose our professional transportation and chauffeur services to run smoothly and stress-free at your events and parties.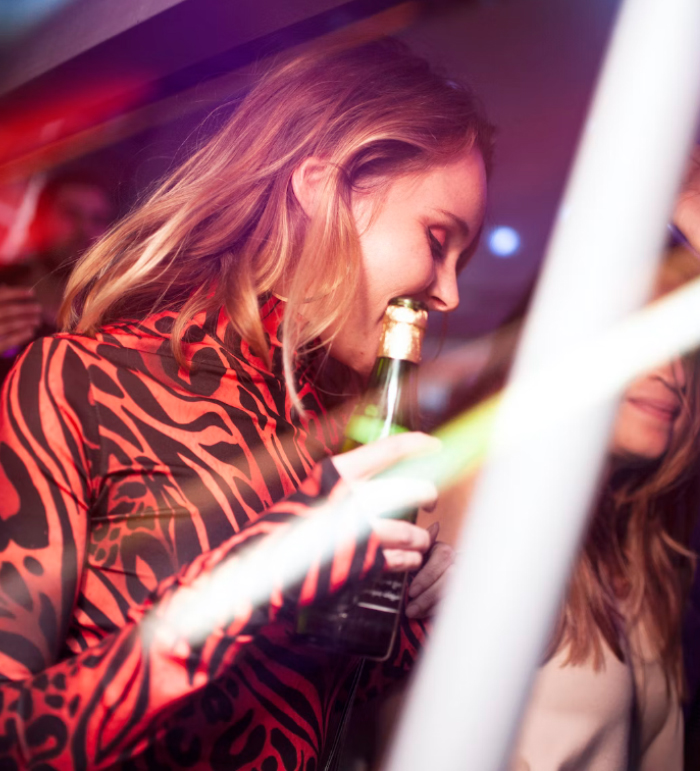 NYC PARTY BUS RENTALS
For all Events
Our luxury transportation is the showpiece for any event, gathering, party, or trip in Brooklyn, NY! Since we know that all occasions have particular transportation needs and requirements, our team is committed to offering a custom experience for each client. So we offer the option of tailoring your package according to your preferences, budget, and type of occasion. However, if you need advice, just tell our specialist the details of your group and event to receive the best suggestions for your special day.
If you are preparing a bachelorette party, bachelor party, or birthday party, our limos and party buses in Brooklyn are the perfect option to celebrate and have "the ultimate party experience," dancing, singing, and drinking thanks to our fully equipped vehicles. Even if you think of touring around the most popular spots in Brooklyn and NYC, prepare your buddies for a unique late-night outing traveling in style.
Whether for junior or senior proms, our limo rental it's as fun as it is safe, so hop aboard our luxurious vehicles and have lots of fun with your friends, classmates, or date on a memorable prom night. Of course, for an important event such as your wedding day, we offer exceptional service with the best shuttle buses for many guests and elegant limos and classic cars for the bride and groom. Even for sweet sixteens, anniversaries, corporate events, sporting events, and more, we have the best party bus rental in Brooklyn.
Learn more about our car rentals and charter bus services!
If you are looking for other ground transportation services to travel with many family members, friends, and more companions, we recommend our charter and coach buses with extra room, enough luggage storage, and premium amenities to enjoy even during long journeys in New York and other places in the Tri-state area like Long Island, Ithaca, Westchester, Atlantic City, and others. Also, if you need to transport large groups to any of the major NYC area airports, such as LaGuardia Airport or JFK Airport, our shuttle services are perfect for arriving on time and safe to take the flight without problems in the middle of the way. Besides, if you are planning field trips, wine tours, bar hopping, sporting events, corporate retreats, concerts, festivals, and other events, our charter and coach bus rental is a suitable transportation solution.
Make sure to count on the highest level of reliability, safety, and quality to attend your corporate events, meetings, and other work commitments in Brooklyn and NYC. Travel and enjoy all the way while keeping your mind on your business or talking with your co-workers and partners on board our finest town cars. Each vehicle in our executive fleet was carefully designed to maintain the efficiency of each ride. Whether a Sedan, SUV, Mercedes Benz, or Sprinter van, you will have a pleasant experience. Call and ask us for our competitive rates for quality car and charter bus services.